Home > Nalcohealth > Fitness And Rehab > Sitback Mesh Cradle

Sit Back Mesh Cradle Singapore

Support Your Posture and Back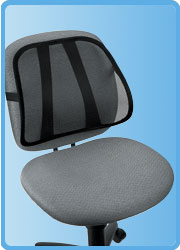 Staying seated for extended periods of time at the office or at home can lead to serious back pain.
Help protect and maintain proper spinal curve with this lightweight version of the popular Sitback Rest, constructed from mesh material to allow air flow to your back and keep you cool and comfortable all day.
The shape conforms to your body for uniform support and comfort. Side support wings wrap around your back, keeping you in the correct position to ease body tension and help maintain proper posture. Attached positioning belt attaches rest to most chairs.
Unique mesh nylon backing keeps you cool and comfortable while providing flexible support all day long


Use anytime, anywhere you need additional and ergonomic support, be it at your work place, your car, your home etc


Generous size of 17.5" x 14" (45 cm x 36 cm) provides ample and complete support
Customer Reviews
Great Product!  - Review by Nadster63(Posted on 4/4/13)

Price -  4 stars out of 5 stars

Value -  5 stars out of 5 stars

Quality -  5 stars out of 5 stars
I am so much more comfortable at my desk at work with this backrest. It has improved my posture as well. I know longer suffer from neck pain after sitting at my computer for 8+ hours a day!
I highly recommend you purchase one of these if you sit at a computer all day.
Love it!-  Review by Lzulu (Posted on 8/17/12)

Price -  5 stars out of 5 stars

Value -  5 stars out of 5 stars

Quality -  5 stars out of 5 stars  
I have osteopenia and some arthritis in the L5 S1 area of my spine. I own many products for back support. I bought this today at my chiropractor's office and it feels so good on my lower back that I have carried it from my car to my office to my car to my home sofa.

A friend tried it and wants it. I will have to hide it or buy more!
Back to top of page
We are moving to nalcophysio.com! There will be content discussing orthopedic and sports conditions such as back pain, knee pain etc. See you there =)