Hey thanks for visiting this page - just so you know we now have a dedicated site to our electrical heat packs which is called HeatPackPro.com - with much more details and depth covering:
health benefits and applications
pros and cons and why we have been using this particular electric heat pack since 2012 in our therapy clinics and prescribing it since
bundle prices/discounts
built-in shopping carts and free delivery Singapore island-wide
partnership opportunities

and more
Talk more!
Nigel

Home > Nalcohealth > Fitness And Rehab > Bremed Electrical Hotpack Singapore
Bremed Electrical Hotpack Singapore
You can use Bremed Electric Heating Pad to gently warm and relax various parts of the body. Using the heat pad stimulates blood circulation especially on stiff muscles and it also helps to relax tension of the muscles. 3 levels of electric temperature control regulate the temperature according to your preference.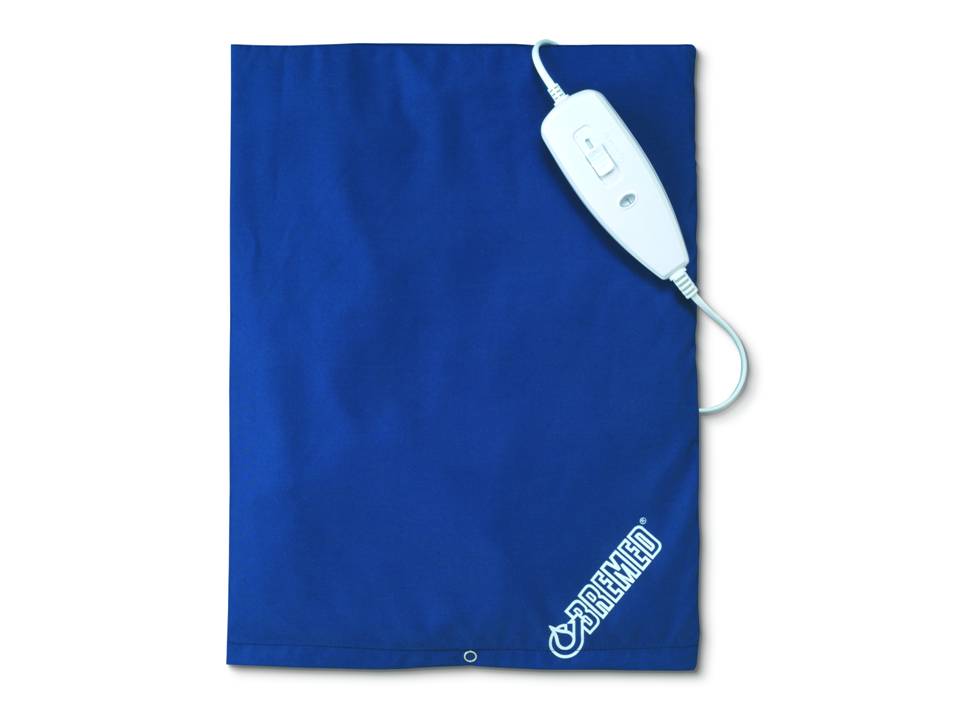 Intelligent constant temperature control
Illuminated heat setting display
Removable and machine washable cotton cover
Even heat distribution
Overheat protection
Auto switch off after 90mins
Range of the temperature :30-65°C
Input power: AC220-240V / 50Hz
Output power: 100W
Material - Cover : Cotton; Insert : PVC
Dimension: 30x 40 cm
18 Months Warranty
Product of Italy
Function of hotpacks and heating pads
Thermal/heat therapy is one of our physiotherapy's treatment modalities, its main purpose is to provide relief and to treat symptoms of non-acute and/or chronic pain, especially helpful to pains that are related to muscle spasms and tensions.
How Bremed Electrical Hotpack Singapore works
Heat therapy helps to dilate our blood vessels, causing blood vessels to expand, causing an increase blood flow (circulation) to muscles, skin and surrounding tissues.
Blood carries nutrients which helps with healing and recovery, helping to induce muscle relaxation, relaxing muscle spasms and even decreasing joint stiffness.
How to use
Bremed Electrical Hotpack
Heat via electrical hotpacks or microwaveable hotpacks are applied before treatment to increase blood flow, relax and loosen muscles and joints for effective interventions and therapy AND/OR after physiotherapy sessions to aid recovery and reduce muscle spasms post treatment.
Caution:
do not place over open wounds
do not remove protective casing
do not pour/expose to water
do not modify the cable
Some of our patients sleep on it, and it's not recommended but if you like extra warmth at night, please please please wrap it with an additional layer of towel for additional safety.

Some common conditions where it often is applied:
Stiff joints, muscles and body parts

Muscle stiffness, tightness or tension such as neck or back tightness

Neck and back aches and pains

Rheumatic, arthritic and joint pains

Chronic pain eg knees, shoulders
I note that some of our patients and therapists enjoy using it when they're cold (especially in cold climates or offices) or when they have aching tummy - it does provide some nice relief and warmth (and fuzzy).

You can use it over several times a day, with the use of one or more layers of towels, but you must take note of times where you shouldn't (keep) use it: people with acute pain, swelling, open wounds, and sensitive/'thin' skin should not use it without the physiotherapist to supervise the condition or situation.
Back to top of page
We are moving to nalcophysio.com! There will be content discussing orthopedic and sports conditions such as back pain, knee pain etc. See you there =)