Home > Nalcohealth > Naqi Skincare > Naqi Massage Creams > NAQI Massage Lotion Medium
NAQI Massage Lotion Medium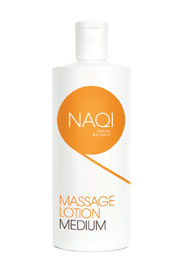 Massage Lotion Medium
Objectives: The practical solution for patients and providers who are sensitive to mineral oils.
Application: Clinic, Private Practice and Sports.

Solution: 
The soft and intensively hydrating formula is mineral oil free. The NAQI® Massage Lotion Medium is especially suited for sensitive skin.
Dermatologically tested . Suited for sensitive skin.
Without parabens or formaldehyde releasers.

Packaging:  100 ml,500 ml, 5 L
want to enquire or order?
Interested in any particular product and would like to know more or order for yourself/family/group?
Email me directly at nigel@nalcogroup.com and I'd do my best to serve you =)

Back to top of page